Solid Plastering
If you take the time to study a building that you admire, whether in Melbourne, on the Gold Coast, or on the other side of the world – you will most probably notice that there are some aspects that have been touched by a renderer/solid plasterer. You will also note that the quality of the finish is obvious to the eye. Therefore Paint Melbourne believe this is vital to get it right.
This section of the website is dedicated to what we refer to as the more traditional methods of solid plastering and rendering. For modern render products see our page about rendering in Melbourne.
Traditional cement render is made from clean sand, cement and lime. Depending on the 'look' required, rendering can be fine or coarse, textured or smooth, natural or coloured, pigmented or painted.
Most of the products used in traditional solid plastering will be mixed onsite by our experienced staff. Where possible we incorporate the modern science and techniques to optimize the performance of the traditional products and application.
Different rendered or solid plastering finishes can be created by using different tools such as trowels , sponges, or brushes. The art in traditional rendering is, (apart from getting the mix right), the appearance of the top coat. You'll notice that solid plastering in Melbourne and around the globe, renderers will have different finishing styles and be able to produce different texture coatings and decorative effects. Some of these special finishing effects may need to be created from a thin finishing 'top coat' or from a finishing wash.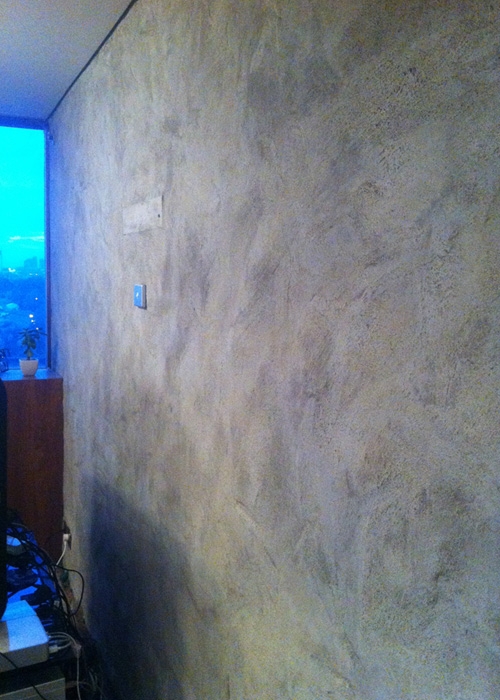 "We believe that quality solid plastering is essential and will ultimately affect
the final look and value of the property it is attached to."
Gypsum plaster (plaster of Paris) is produced by heating gypsum to about 150 °C. When the dry plaster powder is mixed with water, it re-forms into gypsum. The setting of unmodified plaster starts about 10 minutes after mixing and is complete in about 45 minutes; but not fully set for 72 hours. If plaster or gypsum is heated above  200°C, anhydrite is formed, which will also re-form as gypsum if mixed with water.
Lime plaster / Whiteset is a mixture of calcium hydroxide and sand (or other inert fillers). Carbon dioxide in the atmosphere causes the plaster to set by transforming the calcium hydroxide into calcium carbonate (limestone). Whitewash is based on the same chemistry. To make lime plaster, limestone (calcium carbonate) is heated to produce quicklime (calcium oxide). Water is then added to produce slaked lime (calcium hydroxide), which is sold as a wet putty or a white powder. Additional water is added to form a paste prior to use.
Cement plaster / Sand and cement render is a mixture of suitable plaster, sand, portland cement and water which is normally applied to masonry interiors and exteriors to achieve a smooth surface. Interior surfaces sometimes receive a final layer of gypsum plaster. Walls constructed with stock bricks are normally plastered while face brick walls are not plastered. Various cement-based plasters are also used as proprietary spray fireproofing products. These usually use vermiculite as lightweight aggregate. Heavy versions of such plasters are also in use for exterior fireproofing, to protect LPG vessels, pipe bridges and vessel skirts.
Traditional solid plastering finishes Paint Melbourne can produce:
Sand, Cement & Lime Finishes (sponge, scud, render & float)
White Set Architectural Coatings (trowelled)(polished)
Quoines Stone Patterns
Stucco & Splash Coat, Dry Dashing. (Light & Heavy Stipple Finishes)
Marble finishes
Rendering Groove Patterns & Systems
Concrete Mouldings
Some of the traditional finishes can be produced with modern render products:
Tuscano Finishes (sponge)
Dulux Acratex (trowel) (sponge)
Taubmans Armawall (trowel) (sponge)
Traditional finishes can also be applied on the modern cladding systems such as:
Polystyrene Systems. (Hanging, Meshing, Angling& Rendering Two Or Three Coat Systems)
Hebel Systems (Hanging, Meshing, Angling & Rendering Two Or Three Coat Systems)
Blue board Systems (Hanging, Meshing, Angling& Rendering Two Or Three Coat Systems)
Quick N Tuff Lightweight Masonry Panel
Each system has its own method of application and subsequent pro's and cons of which the application method has to be perfected. This is something we have achieved time and time again.
To make the decision process easier and more assuring for the client, we are by appointment available to provide samples and product knowledge in collaboration with the system representatives.
In situations where a system is specified: We will review the system's compatibility with all aspects of the job, when satisfied it will work correctly we will complete the works in accordance with the system specifications and work with the manufacturer to achieve the relevant warranties.
If we indentify aspects of a specified system that may not work with your project we will notify you and aim to identify a better system for your project.
If we select the system: We will communicate with the client to identify the finish and protective aspects that you are looking to achieve on your project. We will then utilize our knowledge and product representatives to identify a superior system for your project. Following this we will complete the works in accordance with the system specifications to achieve a quality finish and relevant warranties.
Liam Cahill  – Paint Melbourne Solid Plastering/Rendering Supervisor
Liam was apprentice to one of the greatest solid plasterers in a generation. He has been practicing the trade the he loves for over 12 years. Born in Ireland, Liam has worked his way through the world and most parts of Australia. He has amassed an in-depth understanding of a variety of products and systems. Liam oversee's the Rendering in Melbourne and The Solid Plastering in Melbourne.
What Liam says?
"It is our goal to excel at the trade in which we love and are passionate about. We incorporate the modern look of today's ideas in design and architecture with the latest renders while also keeping with the traditional methods seeded in our trade".
"Your house is essentially one of the biggest investment's and commitment's you will make in the course of your life…. and pride in that is not to be taken lightly".
"We have many projects completed all with glowing references".
PAINT MELBOURNE PROJECT PORTFOLIO
View our portfolio for a gallery of images of previous projects