Building Restoration in Australia
Building Restoration
Paint Melbourne is much more than a painting company. We have the knowledge and the experience to provide industrial abseiling services used in difficult to access areas and tall building maintenance. In conjunction with our preferred partners in the construction industry, we are able to handle many aspects of complete building restoration.
Melbourne hosts a wealth of pre-20th century historic buildings and architecture, most of which is listed in the Victorian Heritage Register. This makes our city a fantastic place to learn about early construction techniques and designs. Our restoration crews are able to gather a wealth of knowledge by living and working in Melbourne, which makes them some of the top candidates to consider using for your historic restoration project anywhere in Australia, or anywhere in the world.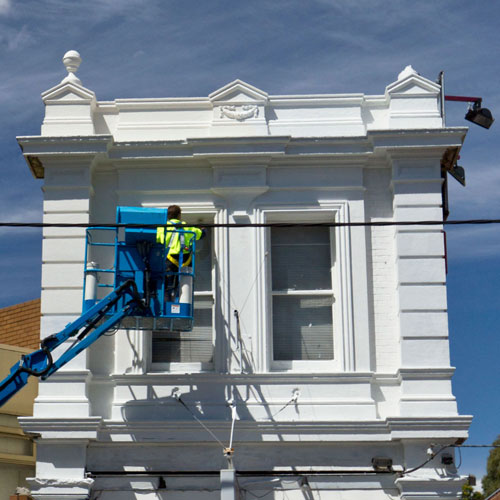 Short of structural damage, we are well-qualified to execute many tasks related to building maintenance and restoration including:
Concrete Inspection, Stress Testing & Repairs

Building Painting (Interior and Exterior)

Building Cleaning

Brick and Masonry Repairs

Solid Plaster and Rendering Repairs

Gutter Cleaning
WHAT WE'VE DONE
Find out more about what we've done by viewing our portfolio.